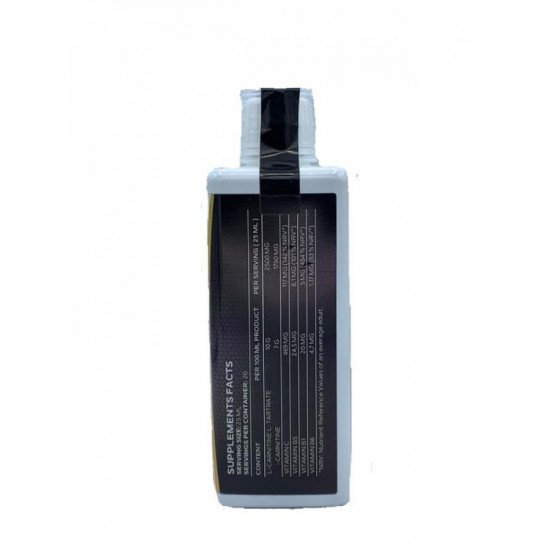 -43 %

L-CARNITINE 4250 GOLD EDITION CHEERY FLOVER 500 ML
Stock:
Brand: GOLD EDITION
Model:

الكارنتين4250مل قولد ايديشن نكهة الكرز
Expiry date March 2022
One dose of L-Carnitine Gold Edition contains:
High concentration and double dose of L-Carnitine of 4250 mg per dose
117 mg of Vitamin C to fight influenza and viral diseases
6.1 mg of Vitamin B5 to improve athletic performance
-5 mg of Vitamin B1 to improve metabolic disorders
-1.17 mg of Vitamin B6 to increase supplement absorption, strengthen the immune system, reduce water retention, and combat hair loss
Carnitine also has many benefits for the body, the most important of which is in the process of fat loss, specifically the process of oxidation of fatty acids. Carnitine is responsible for transporting fatty acids to mitochondria in cells, and there fatty acids are used to produce energy, which is very important for the body. The amount of fat lost from the body during training is directly dependent on the amount of fatty acids transported to the mitochondria. As such, only as much body fat will be burned as fatty acids are transported by carnitine into the mitochondria, regardless of how much fat-burning boosters are taken.
How to use:
Consume one serving of the product 30 minutes before exercise
Package Size: 500ml